Satellite images have revealed that there are nearly 20% more emperor penguincolonies in Antarctica than previously thought. Scientists, at the British Antarctic Survey,have used satellite data from the Copernicus Sentinel-2 mission to track penguin guano,or penguin poo, to monitor the presence of thousands of penguins.
---
The findings, published in Remote Sensing in Ecology and Conservation (https://zslpublications.onlinelibrary.wiley.com/doi/full/10.1002/rse2.176), reveal 11 new colonies, three of which were previously identified but never confirmed. This discovery takes the global census to 61 colonies around the entire continent.
Pic. 1 Locations of penguin colonies
The study found a number of colonies 180 km offshore, situated on sea ice that has formed around icebergs that had grounded in shallow water. These colonies are a surprising new finding in the behaviour of this increasingly well-known species.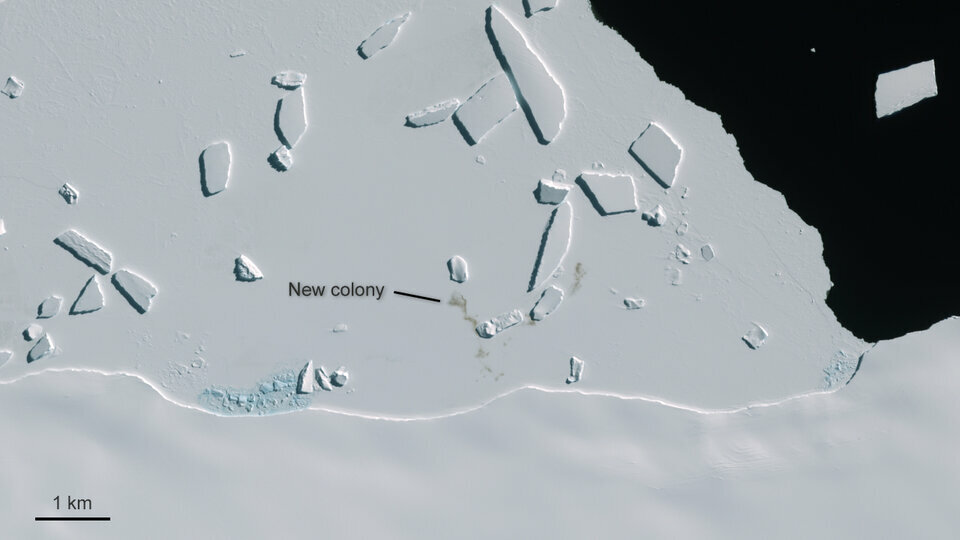 Pic.2 New colony, Cape Gates, Antarctica
Copernicus Sentinel-2 is a two-satellite mission designed specifically to deliver the wealth of data and imagery that are central to the European Commission's Copernicus programme. Satellites, such as the Sentinel-2 mission, provide us with a global coverage, revisiting the same region every few days. The data provide a good understanding of the health and behaviour of our planet – and how it is continuously affected by climate change.